My name is Kyle Hornby and I am a Kitchener-Waterloo Dentist. Each week I tackle common dental topics to raise the bar on dental health knowledge available to the public. My overall goal is to help patients to need less treatment so they can save money on annual dental fees. This week, I'd like to discuss bad breath (or "Halitosis") as well as what can be done to eliminate it!
First let's tackle common sources of bad breath.
Where does bad breath come from?
Well, bad breath comes from the mouth and we know that. However, it's root cause doesn't always originate in the mouth. This surprises many people. There are some systemic health problems that can lead to bad breath. We'll discuss them first and then I'll go into detail about things that go on in the mouth that contribute to Halitosis.
Bad Breath and Systemic Causes
Dry Mouth or Xerostomia
Though this may seem like a mouth-based cause, dry mouth can result from taking blood pressure meds, anti-depressants, medicinal marijuana and a host of other compounds. Dry mouth may also result from autoimmune disorders like Sjogren's syndrome.
Saliva is nature's tooth cleaner and, without it, more food and plaque remains in the mouth and acts as fuel for odour-causing bacteria. One of the most common causes of bad breath is stagnating food and plaque that gets caught around the gumline and in between teeth. So make sure to let your Family Dentist know if you're experiencing dry mouth symptoms and bad breath. Incorporating more water consumption or a saliva substitute like Biotene, can help to clear food from your mouth and decrease or eliminate bad breath.
Diabetes
Diabetes results in a higher glucose concentration in saliva and this provides more fuel for the bacteria that cause bad breath. Additionally, high-glucose saliva provides fuel for bacteria that cause tooth decay and gum disease and both of those problems can contribute to Halitosis, too.
The solution?
The first is to improve glucose control which will have overall health benefits, too. One secret that most patients have never heard of is to chew probiotic gums. These products are available at most Health Food Stores and help to re-balance the bacterial ecosystem in your mouth by increasing levels of beneficial bacteria. Many patients have noticed a distinct improvement in their breath after chewing probiotic gums for only a few days!
Stomach Ulcers
Can bad breath originate in the stomach? The answer is yes as many patients who suffer from stomach ulcers also note unpleasant breath. Most commonly, this is due to (again) a change in bacteria in the mouth. H.Pylori is the bacteria most commonly found to cause stomach ulcers and this same bacteria can be found in the mouth of affected individuals. H.Pylori colonization may increase the concentration of pathogens seen in gum disease and these bugs often trigger bad breath.
Most H.Pylori stomach ulcers respond well to treatment with antibiotics. Ulcer resolution can bring with it a dramatic decrease in bad breath.
Bad Breath and Root Causes Found Within the Mouth
There are a number of local causes of bad breath found within the mouth. In some cases, these can be controlled more easily compared to systemic causes like dry mouth, Diabetes and Ulcers.
Bacterial Imbalance
Your mouth is home to a whole ecosystem including thousands of types of bacteria. This is commonly called the "Oral Microbiome". Many of these bacteria are beneficial to our health but some aren't. The harmful types can cause tooth decay, gum disease and bad breath. Eliminating these bacteria altogether is virtually impossible but, luckily, the key to good health is keeping these populations at stable, low levels.
Problematic bacteria feast on layers of dead tissue that we shed or turnover regularly. When healthy, the low numbers of these bacteria tend not to have a major effect. However, in greater concentrations they consume dead cells and produce bad-smelling compounds as a byproduct of their metabolism. These compounds contain sulfur and produce bad breath at high concentrations.
Luckily, probiotic gums can help to supply your mouth with a boost in beneficial bacteria. These bacteria can out-compete harmful neighbors to shift the overall microbial balance in your favour. Fewer harmful bacteria mean lower production of odorous sulfur compounds.
So consider chewing probiotic gum on a regular basis to keep bad breath under control.
Local Infection
There are generally 2 sources of local infection in the mouth: those originating from an area of the gums and those originating from a particular tooth. When people refer to a tooth abscess or a gum boil, these are the types of infections to which they're referring. A local gum or tooth infection can appear as a distinct swelling or pus blister, or they may not result in any visual change at all. In some cases, there will be accompanying pain while other times there may be no pain whatsoever.
Patients do often note a salty or metallic taste associated with local infection. They will often complain of bad breath as well. The solutions for local infection vary. For a tooth abscess, a root canal treatment will be necessary to maintain the tooth. Tooth extraction or removal is also an option. For an abscess originating from the gums, the solution may be a course of antibiotics. If the gum infection is related to food or debris stuck under the gums, removal of the item will typically eliminate the odour-causing infection.
Resolving the tooth or gum infection will eliminate bad breath.
Food Impaction
This is one of the more common causes of ongoing halitosis. If large food particles and strands are getting caught between gaps in your teeth, they can stagnate for hours causing bad breath. This is another situation where the fuel available to odour-causing bacteria is increased. To eliminate bad breath, you'll need to either eliminate the gaps or make sure you're flossing after every meal.
Treatment to eliminate gaps can include Orthodontics, simple dental bonding or fillings, or the use of dental crowns.
Dietary Causes
Things like garlic and onions contain oils that can contribute to mouth odours for days after consumption. Given that both are healthy foods, it's best to continue eating them. You can minimize odours by rinsing with water after consumption. You can also consume an apple or chew gum for 2-3 minutes after to ramp up saliva production and dilute the oils contributing to bad breath.
Mouthwash and Bad Breath
If someone develops bad breath, they'll often turn to mouthwash as a solution. The problem is that, most over-the-counter mouth rinses dry out your mouth and shift the balance between good and bad bacteria in your mouth. First of all, you need that saliva to dissolve food and plaque and carry both away from your teeth and gums. Drying out your mouth means that, after the initial burst of fresh breath, things will actually get worse. Also, most mouth rinses disrupt the beneficial bacteria in the mouth. Without good bacteria keeping things in check, the bacteria that cause bad breath, cavities and gum disease can thrive.
This means that traditional mouthwash products actually make your mouth less healthy.
So don't rely on mouthwash as an ongoing solution for bad breath.
Tongue Scraping and Bad Breath
One of the main fuel supplies for odour-causing bacteria is the dead tissue that turns over regularly on our tongue. We shed thin outer layers and regenerate new surface layers on a daily basis. The cells we shed become a food source for bacteria. When bacteria digest this fuel supply, they produce byproduct sulfur-containing compounds that have an unpleasant smell.
We can minimize this fuel supply to odour-producing bacteria by lightly brushing or scraping our tongue a few times each week. Try to use a very light pressure technique and make sure you're not scrubbing your tongue. A few very light pressure passes over the tongue's surface followed by a thorough rinse can work wonders for eliminating bad breath.
Will probiotics help to eliminate bad breath?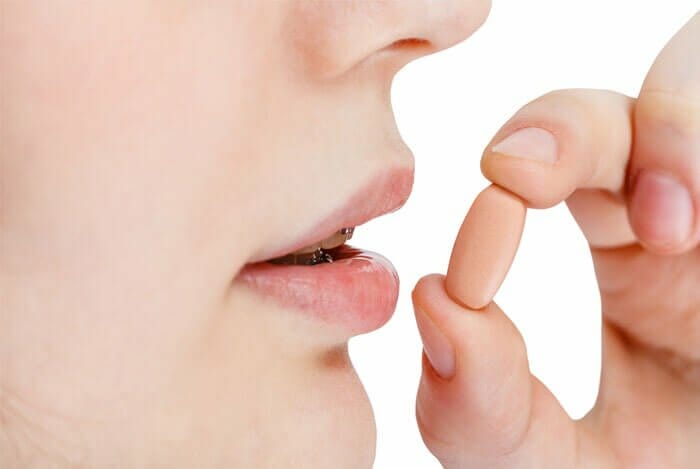 Chewing dental probiotic gum is a great way to eliminate bad breath. These probiotics supply new, beneficial bacteria that can shift the overall balance of your oral microbiome. These beneficial bacteria will out-compete harmful, odour-causing bacteria to keep their numbers low. This new balance will favour the good bacteria that we like and reduce bad breath in the process.
The Take Home Message on Bad Breath
Bad breath has a variety of contributing factors, some originating in the mouth and some originating elsewhere in the body. Oftentimes, bad breath arises when factors shift the balance between beneficial and harmful bacteria in an unhealthy direction. When the environment in your mouth favours an increase in harmful bacteria, one possible outcome is bad breath. Minimizing the fuel available for harmful bacteria is key to controlling bad breath. This can be achieved by regular, light brushing or scraping of your tongue. Another way to control these bacteria is to improve mouth conditions so that beneficial bacteria can thrive. You can do this by chewing probiotic gums which supply more of the good bacteria that your mouth needs.
Using commercially available mouthwash dries your mouth and can disrupt beneficial bacteria in your mouth. I recommend avoiding the use of commercial mouth rinses in favour of the other, more effective solutions outlined in this article.
Thanks for reading. I hope you've found today's article to be helpful!
By Dr. Kyle Hornby, Kitchener Dentist
This article is not intended to be a substitute for professional advice, diagnosis, or treatment. Accordingly, always seek the advice of your Dentist or other healthcare providers regarding a dental condition or treatment.
My name is Kyle Hornby and I am a Dentist in Kitchener, ON. Each week I tackle common dental topics to help you better understand how to raise the bar on your dental home care. My overall goal is to help patients to need less treatment so they can save money on annual dental fees. This week, I'd like to discuss Gum Disease while answering patients' most commonly asked questions.
What is Gum Disease?
Gum Disease, also know as Periodontitis, is a condition marked by an ongoing loss of gums and bone from around your teeth. Gum Disease is the #1 cause of tooth loss in adults, globally (yes, ahead of even tooth decay and cavities). The U.S. Center for Disease Control (CDC) reports that approximately 47% of individuals over the age of 30 suffer from some form of Gum Disease. They also note that Periodontitis increases with age such that 70% of adults over the age of 65 suffer from Gum Disease.
There are many factors that contribute to Gum Disease and I will review them below.
What causes Periodontitis?
There are different forms of gum disease or Periodontitis and the root cause is different in each. Below, you'll find different forms of gum disease and their causes:
Chronic Periodontitis (CP). This form of gum disease often occurs because of poor oral hygiene and heavy plaque and tartar accumulation in the mouth. Patients with CP often present with bleeding gums and lots of plaque around their teeth. Your body's immune system will respond to excessive plaque, tartar, contaminants and harmful bacteria by mounting a destructive attack. Unfortunately, many of the substances that your immune cells produce while in battle cause slow destruction of gum tissue and bone as well.
Aggressive Periodontitis (AP). This form of Periodontitis occurs in patients who are otherwise healthy. These patients maintain good oral hygiene and have very little accumulation of plaque and tartar on their teeth. Some experts believe that patients who suffer from AP have an overactive immune system. This theory suggests that their immune system mounts an unnecessary attack in the mouth despite a fairly normal balance between good and bad bacteria.
Periodontitis Secondary to Systemic Disease (PSD). In PSD, patients develop gum disease that is either caused by, or related to, an underlying systemic illness. Most commonly, PSD develops at a younger age in these patients. Diabetes very commonly influences the onset and progression of Periodontitis. Other illnesses include heart or respiratory disease and HIV.
As an important note, some patients with poor oral hygiene and a mouth rife with plaque, calculus, and other contaminants may never progress from simple Gingivitis (inflammation of the gums without loss of gum and bone tissue) to Periodontitis. (This was confirmed in a landmark research paper found here.) This underscores the variable (and sometimes unpredictable) nature of Gum Disease.
What are the symptoms of Gum Disease?
The symptoms associated with Gum Disease can include pain, gum infection (or abscess) and tooth sensitivity. Pain commonly accompanies severe inflammation of gums and sometimes occurs in conjunction with gum infections. The infections will occur in patients with gum disease when food stagnates in deep gum pockets for long periods of time.
Tooth sensitivity to cold, heat, or sweet occurs commonly in Periodontitis patients because gum recession exposes the extremely sensitive roots of teeth.
In many cases of gum disease, however, there are no symptoms whatsoever. This is often the case in patients who lose the bone surrounding their tooth roots but maintain a normal gum level. When this occurs, it is difficult for patients to know that bone loss is occurring underneath an otherwise normal-looking surface.
The fact that the disease may not produce any symptoms or that it may be difficult to detect at home underscores the importance of frequent dental cleanings and checkups.
What does Gum Disease look like?
Gum disease looks different in different people. This can make it hard to notice for a patient checking out their teeth and gums at home. Bone loss is a hallmark of Periodontitis, but in some cases gum loss or recession doesn't occur. It makes perfect sense that if your gums stay at the same level over time, you'd assume things are pretty much okay. However, bone loss may be occurring beneath the surface completely undetected.
In the majority of cases, Gum Disease is more noticeable because gum loss occurs in conjunction with bone loss. These patients will note the progressive gum recession at their checkups. Additionally, most cases of Periodontitis come with inflammation and bleeding gums. Patients may also notice occasional gum abscesses or infections. A bad smell and/or taste in the mouth often accompany gum disease.
NOTE: Smoking causes a loss of blood and nutrition supply to the gums. In patients who smoke, Periodontitis will be harder to detect because the lack of blood supply means no inflammation or bleeding, and generally, the gums will look pink and healthy.
Can Gum Disease be treated?
Yes. In cases where there is a root cause of Periodontitis, treatment can improve or eliminate the condition. Patients with Chronic Periodontitis will be able to slow or completely arrest its progression with a great oral home care routine and regular dental cleanings. In patients where systemic disease is a contributing factor, proper disease management will help to slow Periodontitis. For instance, we often see improvement in patients who begin to control their diabetes by improving blood sugar management.
In patients with Aggressive Periodontitis, there is incomplete evidence regarding treatment of the disease. Given that in AP, plaque and other contaminants are not a factor, it is a difficult condition to treat and control.
Is Periodontitis reversible?
Unfortunately, Periodontitis is not reversible. Once you lose gum and bone tissue, it will not grow back or regenerate. Thus, the main goal of treatment is to slow or stop progression of the disease.
There is very little ability to rebuild gum and bone tissue using grafts. That is, positive outcomes occur only within a narrow range of conditions.
Is gum disease painful?
In some cases gum disease can cause pain but, generally, it's not painful. Pain will develop in conjunction with a gum infection which can come with swelling and draining pus, as well. Occasionally, inflammation is severe enough to cause pain but this is most noticeable during flossing. If the patient doesn't floss their teeth, they will tend to be fairly pain-free through the progression of their gum disease.
Is Periodontitis contagious?
Gum disease is not contagious in the sense that you cannot infect another person. It is possible to transfer harmful bacteria during kissing but these bacteria will not thrive in a clean, healthy mouth. As long as the individual continues to have a clean mouth and maintains a good balance between helpful and harmful bacteria, they won't develop Periodontitis.
Harmful bacteria can, however, initiate gum disease in one area of the mouth and eventually spread to other sites in the same individual. This underscores the importance of catching local cases of Periodontitis early to prevent gum and bone loss in other parts of the mouth.
How much does it cost to treat gum disease?
Unfortunately, it is difficult to be precise about treatment costs for gum disease. The reason is that treatment can involve only regular dental cleanings in some circumstances, or it may involve gum and bone grafting in others.
Costs also depends on patient comfort and priorities. Some patients may want to reverse gum recession with pricey connective tissue grafting. Others, in comparison, will be comfortable to simply halt progression of the disease.
Generally, a dental cleaning can range in cost from $100 - $300. Oftentimes, a patient with Periodontitis will require more frequent dental cleanings, on average. Whereas the average cleaning interval is 6 months, patients with gum disease typically have their dental cleanings every 3-4 months.
The higher frequency dental cleanings help patients to minimize the buildup of plaque, tartar and irritants that fuel the progression of Periodontitis.
Patients who pursue bone and gum grafting can be looking at fees in excess of $1,000 - $2,000 per tooth.
Can smoking cause Periodontitis?
We've gone over gum disease and smoking briefly, above. We know that gum disease occurs at a higher rate in smokers and that it's tough to detect because the gums aren't inflamed and they don't bleed. However, we haven't discussed why smoking contributes to gum disease.
One reason why smoking can trigger gum disease is because of a loss in blood and nutrient supply to gums. Without these things, your gums don't heal or turnover at a rate that's consistent with good oral health. Another reason is that smoking changes the cells and enzymes your body produces. When turning over gum tissue, your body has cells and enzymes that do some "breaking down" and others that do some "building up". Smoking increases the production and action of the cells and enzymes that break down gum tissue and bone, causing a steady loss of both over time.
What habits can make Gum Disease worse?
There certainly are habits and behaviours that can accelerate the bone loss and gum recession that comes with Periodontitis. These are the things you want to control or avoid if you're trying to stop the progression of gum disease. What are they?
SMOKING. As I mentioned above, smoking depletes the blood and nutrient supply within your gums. They don't heal as well. They don't turnover as well. If you're already battling gum disease, smoking will only make things worse. There is research demonstrating that smoking Cannabis also contributes to Periodontitis.
TOOTH GRINDING & CLENCHING. Daytime or nighttime clenching and grinding can cause bone loss and gum recession in the absence of harmful bacteria. That is, people with otherwise healthy gums and no active Periodontitis can lose bone and gum tissue because of their clenching and grinding. Now, add active gum into the mix and you have a recipe for rapid gum and bone loss. Grinding and clenching habits differ from smoking in that they often occur unconsciously or during sleep. In most cases, patients can't just decide to stop grinding their teeth. The best management solution is to wear a custom night guard that will cushion against and distribute harmful forces that can accelerate the progression of gum disease.
Is there a mouthwash to help with gum disease?
Scope, Listerine and other manufacturers offer mouth rinses to kill or disrupt oral bacteria. The problem with many of these products is that they harm many types of good bacteria within the mouth, too. Intuitively, we may think that a sterile mouth is a portrait of good oral health but this is not the case. We rely heavily on many strains of good bacteria to keep bad bacteria at a minimum, help digestion, and keep our oral immune system running at peak levels.
A more productive approach to tweaking bacteria levels in the mouth is through regular use of dental probiotics. These can be found at natural food stores, come in gum and lozenge form, and provide high concentrations of beneficial oral bacteria. Research has shown that some of the bacterial strains in these probiotics can help to fight Periodontitis or Gum Disease!
Can Periodontitis affect my overall health?
I think that one of the most unfortunate fallouts of having a separate healthcare provider deal with the mouth is that we all came to think of dental health and overall health as being independent or separate. This went on for a long time and represented one of the "blind spots" in how medical and dental healthcare providers viewed overall wellness.
In recent years, there has been a windfall of research showing links between oral health and overall wellness. Specifically, poor oral health has been shown to negatively influence many systemic illnesses including heart disease, Diabetes and Alzheimer's Disease (to name only a few).
There may be many ways through which gum disease affects overall health. One main mechanism involves harmful oral bacteria (that cause Periodontitis) moving to other parts of the body, where they cause inflammation and modify the body's immune function. Studies have identified oral bacteria in atherosclerotic plaques seen in patients with cardiovascular disease.
Summary
Gum disease is a common oral condition that affects a large percentage of our population. It is one of the leading causes of tooth loss. It can also cause pain, suffering and lead to worsening of systemic conditions like Diabetes and Heart Disease. The progression of the disease varies between individuals and it can be made worse by outside factors such as smoking and poor oral hygiene. It is important to detect Periodontitis early to halt it's progression and to minimize gum and bone loss.
By Dr. Kyle Hornby, Kitchener Dentist
Our Kitchener Dental Office is conveniently located in Downtown Kitchener. We are a short drive away for families in Waterloo, Breslau & St. Jacobs. Our central location means we truly offer family dentistry near you!
This article is not intended to be a substitute for professional advice, diagnosis, or treatment. Accordingly, always seek the advice of your Dentist or other healthcare providers regarding a dental condition or treatment.
I'm Kyle Hornby and I am a Family Dentist in Kitchener-Waterloo. Each week, I tackle subjects to help raise the bar on dental health information available to the public. Today, I'm going to discuss food traps, how they allow food to accumulate between teeth, and the long-term damage they can cause.
Out of all the new patients we see each year, many acknowledge that food trapping between their teeth is one of their chief concerns. As you may know, food trapping between your teeth can cause an annoying and unpleasant pressure sensation. Clinically, food accumulation can fuel tooth decay as well as inflammation and gum disease.
So, how do "food traps" (the small gaps between teeth where food gets stuck) develop and what can be done to better manage them? How can we reduce or eliminate food and plaque accumulation between teeth to stave off cavities and gum disease? The answers are simpler than you might think.
What causes food traps?
A few things can cause a food trap. Some occur naturally while others are the result of dental treatment. Causes of food traps include:
Dental work that's not properly shaped. This is by far the most common cause of food traps. When a dental filling, dental crown or dental implant crown does not create a snug contact with it's neighbor, you have a site into which food can wedge and stagnate over time.
Bone loss due to gum disease. In an ideal situation, your gums fill the space between teeth entirely. If you lose jaw bone and gum tissue over time, you develop larger pockets that can trap food. Even if you have a proper, snug contact between two neighbouring teeth, you can still get food trapping in deep gum pockets if the jaw bone and gum loss is severe enough.
Naturally occurring gaps or spaces. Some people naturally have spaces or gaps between their adult teeth. These sites can potentially allow for trapping of fibrous foods like meats and vegetables.
What are the risks associated with food traps?
Plaque and carbohydrates accumulate on your teeth daily. They provide a fuel supply for harmful bacteria that cause cavities and gum disease. In comparison, food debris is much larger in scale. When it traps between teeth, it provides a much more abundant fuel supply for the same harmful bacteria.
Bacteria, flock to areas where resources are plentiful. They set up shop there and begin to multiply. A single food trap site can supply lots of fuel to harmful bacteria that, in turn, cause rapid damage to teeth and gums. Because of this, tooth decay resulting in cavities, and gum disease resulting in bone loss and gum recession can occur very rapidly at sites where food traps regularly.
The good news is that there are solutions for eliminating food traps. There are also strategies for managing food traps. Let's start with long-term management of existing food traps, first...
Managing food traps with the right tool belt
Most patients suffering from food impaction sites note that flossing doesn't always get the food out. If you think about it, floss is very fine and designed to remove small food and plaque particles from tiny spaces. It's not for removing large chunks of food from wedged tightly between teeth.
Because of this, flossing will often move the food around without removing it completely. So, you need something bigger in scale.
There are 2 options:
The Proxabrush. Commonly called the "Christmas Tree Brush", this brush is like a toothpick with bristles on it. You can easily access retentive areas to remove larger food debris. The proxa-brush is a great tool for quickly removing whatever accumulates at food trap sites.
The Monoject Syringe. Many people remember the plastic irrigating syringe they were given after their wisdom tooth extraction. Well, when you're battling what goes on at food trap sites, the Monoject Syringe packs serious power. You can use it to generate a high pressure stream of liquid that will displace any food wedged between your teeth.
A Waterpik. Waterpiks are great for rinsing and irrigating to remove plaque and food debris from hard to reach places.
Eliminating food traps with the right Dental Treatment
Most people won't want to replace a dental crown to close an open area that's trapping food. It's costly with respect to both time and money. Their reluctance makes complete sense.
However, when I present the option of augmenting existing dental fillings to close food trapping gaps, most patients jump at the opportunity to do so. It can be completed quickly and, in most case, insurance plans will cover the necessary dental work.
It is simple and predictable to add to dental fillings to improve tooth-tooth contacts and eliminate pesky food traps. If you have 3-4 food traps in your mouth (commonly between molars or premolars), closing the gaps will take about an hour.
If you're noticing food trapping between your teeth, let your Kitchener Dentist know about it to see if there's a simple solution for eliminating the problem.
Closing gaps that occur naturally
If you have naturally occurring spaces between your teeth, the most predictable way to close them is with orthodontic treatment. The two most common options for this are traditional braces and Invisalign. Because orthodontic treatment costs are extremely high (think $5,000 - $8,000), make sure that the benefit of closing spaces, eliminating food traps, and increasing the esthetics of your smile are worth it to you.
In some cases, you can close spaces with dental bonding or fillings but this often requires modification of healthy tooth structure to improve the "hold" of the bonding. Some patients elect to close gaps using cosmetic dental crowns that are slightly wider than their natural teeth. With a greater tooth width, the gaps disappear.
Managing food traps caused by Gum Disease
Above, I told you that gum and bone loss can lead to larger spaces around teeth. Instead of having your gums fill the space between teeth, patients with Periodontitis have deep gum pockets and gaps where food can settle and stagnate. As gum disease progresses, these spaces become larger, more food traps around teeth and the ensuing inflammation keeps gum disease active. It's a bit of a vicious cycle.
The best approach is to stop gum disease in its tracks. The way to do this is by identifying any root causes. The most common causes include poor oral hygiene and smoking. However, uncontrolled Diabetes can also be a contributing factor. In short, if you know what's triggering your gum disease, you can take measures to control it.
Once you stop the progression of gum disease, you'll still need to manage the larger spaces around your teeth. It's always a good idea to ask your Family Dentist if there are any dental treatments that can minimize large spaces and food impaction. Also, consider using some or all items in the home care tool belt outlined above. Bringing food and plaque out of larger spaces can be challenging using only traditional dental floss. Proxabrushes and irrigating devices (think Waterpik) work far more effectively.
If food is trapping between your teeth, ask your Kitchener-Waterloo Dentist why this might be happening. A good discussion will provide you with the answers you need to manage the root cause of any food traps that exist in your mouth.
Thanks for reading today's article.
By Dr. Kyle Hornby, Dentist in Kitchener, Ontario
Our Dentist Office in Kitchener is conveniently located Downtown. We are a short drive away for families in Waterloo, Breslau & St. Jacobs. Our central location means we truly offer family dentistry near you!
This article is not intended to be a substitute for professional advice, diagnosis, or treatment. Accordingly, always seek the advice of your Dentist or other healthcare providers regarding a dental condition or treatment.
My name is Kyle Hornby and I am a Dentist in Kitchener, Ontario. Each week, I tackle subjects and answer FAQs to help raise the bar on dental health information available to the general public. Today, I'm going to discuss all things tooth brushing so you can get the most out of your dental home care routine!
What Toothpaste Should I Use?
Before we get into tooth brushing basics, let's talk about what you should be using. For a long time in North America, a 0.243% fluoridated toothpaste has been the gold standard for adults and children over 3 years of age. However, more and more parents are trying to avoid fluoride for their young ones. So, what are the options?
It's important to be aware that fluoride has considerable clout in the toothpaste world because it makes enamel more resistant to acid attack. If you put two pieces of enamel in acid, the one that's been treated with fluoride will dissolve at a much slower rate compared to the untreated piece. So, it's valuable but what if I want to avoid it with my kids?
Well, I don't recommend brushing with water only. I also do not recommend the use of non-fluoridated toothpastes because your teeth need some kind of supplement.
There is a product by the name of Hydroxyapatite (high-drox-ee-ah-pah-tight) Toothpaste, or HA Toothpaste, that is gaining traction within the North American toothpaste market. HA is the main building block for tooth enamel and dentin. When you brush with HA Toothpaste, you're feeding your teeth what they need to heal early cavities. This can help you to stop tooth decay before it reaches a point where it can require treatment, namely, dental fillings.
For parents who would prefer to avoid fluoride while keeping their child's teeth healthy, HA Toothpaste may provide the answer.
Generally, you should use a pea-size amount of toothpaste when brushing your teeth.
How to Brush Your Teeth Properly
Brushing your teeth should be an active exercise for you. What I mean by this is that you shouldn't do other things (like using your cell phone) while brushing. When you brush, focus on what you're doing as it will pay dividends. Paying attention will help you to focus on your technique and, with brushing, technique is everything.
The most common mistake people make is to brush across their teeth in a sawing motion. There are at least 2 reasons why this can be problematic:
When you brush in a sawing motion, your bristles don't get in between the teeth and into the hard-to-reach nooks where plaque collects. In fact, you end up brushing only the smooth surfaces which are already fairly self-cleansing.
This brushing technique can cause enamel wear. I'm not kidding. I've seen patients scrub lines into their tooth enamel using the sawing technique.
So, here's what works even better...
You want to angle your brush at 45 degrees toward the gums and then massage your teeth with a circular brushing motion. You can use fairly tight circles. Watch where your bristles go when you do this. You'll notice that they get in between teeth and also into the gum line areas.
Research has shown that, with an angled-circular technique, you can actually get about 1mm under your gums. This enables you to better clean your gum pockets. You won't get that kind of coverage with the sawing technique.
Now, you have to be more gentle on gum tissue than you do on tooth enamel. But, you still need to get your gums clean. So here's the deal for doing this properly. Make sure that you can both see and feel toothbrush bristles making contact with your gums, but try to remember that this contact should be very light.
Think painting, not scrubbing.
A light pressure technique will mean that you have to take longer to get your teeth feeling sparkly clean, but it also means you won't wear down your enamel.
Should I Spit Out the Toothpaste and Rinse After Brushing?
Yes, to spitting out the toothpaste. If you are using a fluoride-containing toothpaste, you don't want to ingest gobs of it. Now, should you rinse? Technically, any toothpaste ingredient that strengthens your enamel can do more good the longer it's in contact with your teeth. So, if you avoid rinsing after brushing, you'll retain a small reservoir of either Fluoride or Hydroxyapatite in your saliva while you sleep.
This can have a tremendous benefit to your teeth. That old saying that sometimes a little goes a long way certainly applies here.
My only reservation with regard to not rinsing concerns standard Fluoride toothpastes. These almost always contain Sodium Lauryl Sulfate (SLS), a mild detergent that makes toothpastes feel foamy. SLS can strip the reddish-pink mucosa from your cheeks and the inner surfaces of your lips. This can contribute to forming aphthous ulcers and it will make life worse for patients who already suffer from recurrent battles with these sores.
So, as a general rule, I'd advise anybody prone to aphthous ulcers (or "canker sores") to rinse thoroughly if brushing with an SLS-containing fluoride toothpaste.
How Many Times a Day Should I Brush My Teeth?
Ideally, you should brush your teeth in the morning when you wake up, at night before you sleep and 45 minutes after meals. If you can manage this (in addition to daily flossing), you will minimize or eliminate the need for corrective dental treatment.
At the same time, I realize that brushing after meals may not be possible for everybody, especially if they eat while at work. So, if you can at least brush in the morning and at night before bed, that will help you to fend off tooth decay.
NOTE: After meals, there is an acidity spike in the mouth and brushing your teeth under these conditions will erode your enamel. The spike in acidity comes back down to normal levels after about 45 minutes. This is a much safer time for brushing your teeth.
How Many Minutes Should I Spend Brushing My Teeth?
This sort of varies from person to person. Some people have larger teeth and, therefore, more surface are to cover when brushing. Some people have 28 teeth, while others may have far fewer. If somebody has orthodontic braces, they will need more time to work around those impediments.
So, the amount of time you should spend brushing really does depend on a number of factors.
Generally, I suggest to my patients that they brush for 2 minutes in the morning and 3-4 minutes before bed.
Why the discrepancy?
Well, simply put, when you wake up and brush your teeth you are doing so mostly to achieve fresh breath. You don't really have much on your teeth if you brushed thoroughly the night before. In contrast, your nighttime brush comes after a full day of eating meals and building up tenacious plaque deposits on your teeth. Plus, the stakes are much higher with your nighttime brush. If you leave any plaque on your teeth it can stagnate and cause damage to your teeth and gums through the night.
So, generally, you should spend at least 3 minutes brushing with light, circular pressure before bed. If you nail this part of your home care routine, you'll enjoy 8-10 hours of regenerative time while you sleep. Simply put, your gums can heal and your teeth can re-mineralize with the help of Calcium and Phosphorus in your saliva.
Is Brushing My Teeth Once a Day Enough?
This is one of the most common questions we receive at our Kitchener Dental Office. What makes things tricky with the "once-a-day" approach is that people tend to choose the morning for brushing. The payoff on morning brushing is fresh breath which is very appealing. However, when you don't brush before bedtime, plaque, food debris and other contaminants stagnate in your mouth overnight.
I encourage every patient to brush at least twice each day. If someone insists on brushing only once, I recommend that they do so before going to sleep.
How Often Should I Replace My Toothbrush?
As your toothbrush ages, the bristles begin to splay out in different directions and they become rougher. The splaying prevents you from properly cleaning your teeth while the bristle roughness can damage your tooth enamel. Additionally, your brush accumulates a pathogen load over time. If you suffer from recurrent cold sores (Herpes Simplex Virus 1 causes this), you may be harbouring the main ingredient for a flare-up right on your toothbrush. These are just a few reasons for replacing your toothbrush regularly.
But, how often is often enough?
Generally, you want to replace your toothbrush every 1-2 months. Your bristles will splay out faster and to a greater degree if you normally brush with heavier force (this is not great for your gums and tooth enamel). If your brush bristles are looking haggardly after a month, change your brush then.
You can probably go up to 3 months on each brush but, generally, replacing them slightly more frequently is good practice.
Summary
Brushing your teeth is an essential part of a sound oral health program. Brushing our teeth has the potential to eliminate harmful plaque and debris but it can also damage our teeth and gums, if done improperly. Increasing your brushing time, while using lighter force and the correct circular motion will help you to strike a nice balance between disrupting harmful plaque and being kind to your teeth and gums.
Make sure to have a good quality toothbrush and replace it at reasonable intervals to keep it functioning optimally. Be strategic about tooth brushing times and make sure you know what's in your toothpaste.
If you learn the correct technique and brushing frequency early on, your teeth and gums will be happy and serve you well for a lifetime.
By Dr. Kyle Hornby, Kitchener Dentist
Our Kitchener Dental Office is conveniently located in Downtown Kitchener. We are a short drive away for families in Waterloo, Breslau & St. Jacobs. Our central location means we truly offer family dentistry near you!
This article is not intended to be a substitute for professional advice, diagnosis, or treatment. Accordingly, always seek the advice of your Dentist or other healthcare providers regarding a dental condition or treatment.