Dental Implants in Kitchener, ON
---
Single Tooth Replacement (Implant Crown)
Dental Implants provide a restorative solution to the loss of one or more teeth. The popularity of dental implants has increased steadily over the years. One of the main reasons for this is that the dental implant provides the most "toothlike" solution for replacing individual teeth. The implant itself, when placed in the jaw, serves as an artificial replacement for a tooth root. The implant therefore acts like an anchor, and can support an artificial tooth crown to replace a single tooth. There are 3 components to a single tooth implant crown:
Dental Implant Screw – The implant screw exists beneath or under the "gums". It is made of biocompatible titanium and is surgically placed within the jawbone. Titanium is accepted by the body extremely well and fuses with the bone (called osseointegration) during the healing process. Osseointegration ensures that the implant is fixed in place and does not move.
Abutment – This is a metal collar and peg that attaches to the top of the implant screw and is the base for a crown, bridge, or denture.
Dental Crown – The crown is the porcelain "cap" or "sheath" that fits over the abutment peg and gives the implant a tooth-like appearance.
Question: What happens if I don't replace lost teeth?
Neighboring teeth tip, drift and rotate horizontally into the space left
Opposing teeth over-erupt or grow out of the gums vertically and into the space left
Soft tissues like the tongue and cheek grow and enlarge into the space left
Question: What benefits does an implant crown have?
Stabilizes position of opposing and neighbouring teeth
Restores and improves chewing function
Restores proper speech
Restores your smile!
Prevents long-term collapse of your bite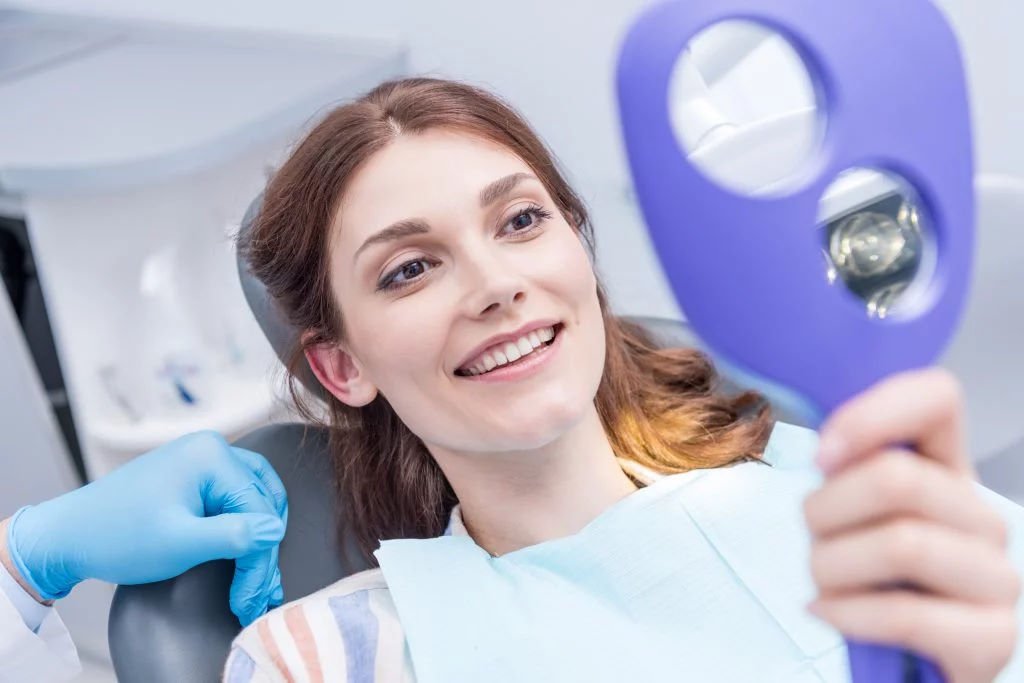 Book a consult to discuss Dental Implants with Dr. Kyle Hornby now. Call at (519)-576-8160 Or Schedule Your Appointment Online.
Dental Implants in Kitchener: What is involved in having my dental implant crown made? The dental implant procedure.
Prior to dental implant placement at the site of tooth loss, the amount and quality of remaining bone will be assessed. In cases where additional bone is required to properly support or encase the implant, a bone graft will be recommended. If you require a bone graft, there is likely to be a 4-5 month healing period before an implant can be placed.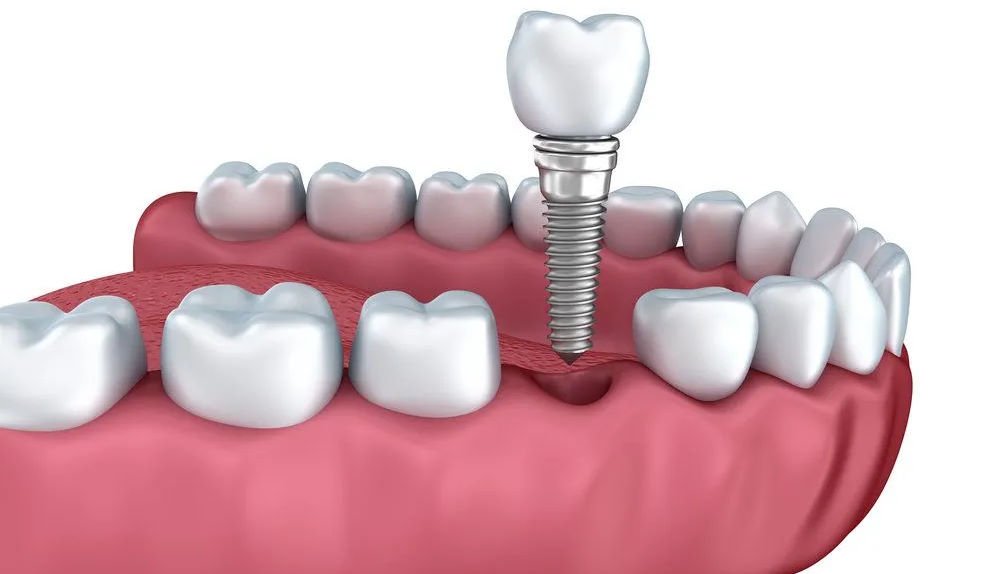 Dental implant placement is a surgical procedure by which the implant screw is positioned in jawbone. The gum tissue may or may not be stitched or closed over the implant. The ensuing healing period typically lasts 3 months and allows for bone to attach to the implant (this is called "osseointegration"). Following proper healing, the implant is exposed and a highly accurate impression is taken. This impression captures the shape and angulation of the retaining implant as well as the gap left as a result of tooth loss. A healing cap or disc is then attached to the implant to prevent damage. At the try-in or insert appointment, the healing cap is removed and both abutment and crown components are attached to the implant. With the crown in place we can ensure that:
Your bite is comfortable
The crown is sealed properly to the implant
You approve of both the shape and colour or "shade" of your crown
Once we are satisfied with your implant crown and you approve the colour and shape, we can bond the crown to the abutment and implant. In some cases, the crown and abutment come as a single component and can be attached to the implant by a screw under high torque. You will be instructed to avoid heavy chewing on the new implant crown for 72 hours. You will also be advised to avoid flossing around the implant crown for 72 hours. Enjoy your new implant crown!
NOTE: It is important to be aware that some factors and/or medical conditions increase the risk of implant failure. It is therefore critically important to undergo medical assessment prior to dental implant therapy. Additionally, some adjustments might be required at your try-in appointment. If major adjustments to your implant crown are required, it will be returned to the dental lab and an additional appointment(s) might be required.
Multiple Tooth Replacement with Dental Implants
(Implant Supported Bridges, Implant-Supported Dentures & Implant-Retained Dentures)
Multiple dental implants can be utilized to support more complex restorative solutions such as bridges or even complete dentures. Two dental implants can be utilized to support a fixed dental bridge that replaces 3 or more missing teeth. Two or more dental implants can be utilized to retain or support a complete denture.
Implant-Supported Bridge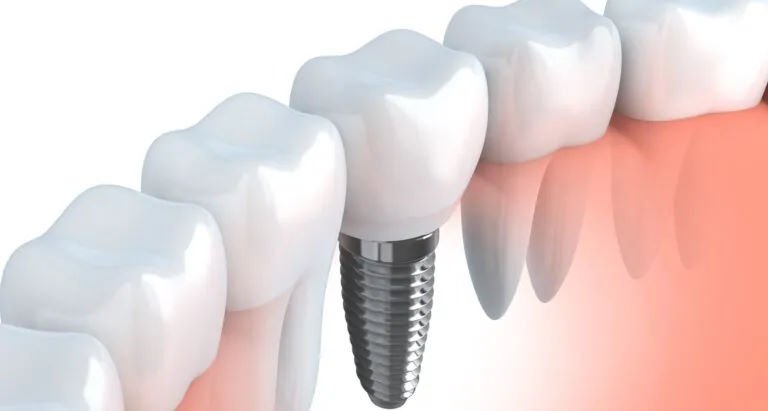 An implant-supported bridge is a one-piece, non-removeable appliance that replaces three or more missing teeth. The ends of the bridge are made up of retaining crowns. These crowns or "retainers" are attached to dental implants spanning a space left by missing teeth. The retaining crowns are fused to one or more bridge teeth. Bridges can be made of gold or porcelain depending on your esthetic preferences. Implant-supported bridges provide a strong and esthetic solution to replace missing teeth. Restoration involving an implant-supported bridge is similar in sequence to restoration involving an implant crown, but simply allows for replacement of a greater number of teeth.
Implant-Retained Complete Dentures
Implant retention of a complete denture dramatically improves fit and minimizes movement or dislodgement of the denture during chewing. Typically, two to three implants are placed and, once healed, a complete denture is made and adapted to lock onto the implants via adapter components. In some cases, an existing denture can be adapted to fit on placed dental implants. Advantages of an implant-retained denture compared to traditional complete dentures include:
Superior chewing function
Ability to eat a wider variety of foods
Improved speech
Greater comfort and less soft tissue trauma/irritation
Increased self-esteem
Implant-retained complete dentures can still be removed to enable proper cleaning and oral hygiene. The implant placement process for retained-dentures is similar to that for implant crowns (please review above). Bone grafting and augmentation might be required prior to implant placement. Additionally, there is a similar 3-month implant-healing period. Once implants are healed and osseo-integrated, impressions can be taken using the complete denture as an impression tray. The denture can then be modified at our dental lab to connect to your implants via adapter components.
Dental Implants in Kitchener: How many dental implants can you get?
Theoretically, you could replace every tooth in the mouth with a dental implant. There are no inherent medical or health concerns with dental implants. Some patients are not suitable candidates for dental implants (i.e. smokers or individuals with uncontrolled Diabetes), but dental implants don't negatively affect your health. From an efficiency standpoint, it would be excessive to replace 28 missing teeth with 28 implant crowns. Typically, the 14 teeth in each dental arch are replaced with Implant Bridges. 4 Implant Bridges can replace all teeth in the upper arch. 4 more Implant Bridges can replace all teeth in the lower arch.
Another option is to have a denture connect to 4-6 implants in each arch.
So while you could, theoretically, have 28 implant crowns replacing all missing teeth safely, this restorative approach is very uncommon.
Dental Implants in Kitchener: Who provides Dental Implant Dentistry?
General Dentists can provide Dental Implant placement and restoration. Dental Specialists such as Periodontists (Gum Specialists) and Oral Surgeons can provide only dental implant placement. Those specialists cannot restore implants with dental crowns.
Research shows that experience with dental implant placement is correlated with treatment outcome. Specifically, practitioners with more experience placing dental implants have higher success rates. Oral Surgeons and Periodontists all place implants commonly and therefore, frequently. Some General Dentists place implants frequently while others do not. Consider asking a candidate treatment provider about their level of experience and training related to dental implant placement and restoration.
If you are interested in learning more about the available options for replacing your missing teeth, contact us to book a complimentary consult with Kitchener Dentist, Dr. Kyle Hornby.